Contact
Leah
with any questions.
More info to come.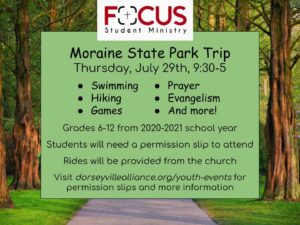 Rides will be provided by Dorseyville Alliance staff and volunteers.
Pick up and Drop off at Dorseyville Alliance Church
Permission Slips are required to attend. Printable versions are available here (scan and email them to Leah or bring a signed copy to the event). Permission Slip copies will also be available to be signed by a parent/guardian at the time of drop-off.
Snacks will be provided. Please bring your own (modest) swimsuit and a towel, as well as good walking shoes and $10-$20 for lunch. Please reach out to Leah if money is an issue. We will make sure all students are fed! Check back here on July 28th for updates in case of rain.