Welcome to Dorseyville Alliance Kids, Virtual and Vibrant! Scroll down to see what events are coming up, to find the latest weekly kids' lesson, or to submit a prayer request.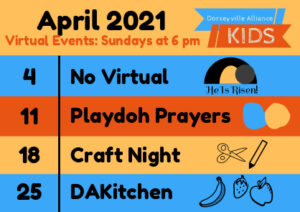 April 4th -> No Virtual | We'll have in-person Children's Church on Sunday morning as well as a lesson posted to YouTube for our online families, but we will not have an evening virtual event. Happy Easter!
April 11th -> Playdoh Prayers| Ms. Marla is going to give us a hands-on way to pray. Start thinking of some prayer requests.
April 18th -> Craft Night | Ms. Laura has an armor of God craft and experiment for us. You'll need scissors, glue, crayons or colored pencils, and two glasses of water.
April 25th -> DAKitchen | Ms. Rachel has a snack for us to make that goes along with our Fruit of the Spirit lesson! In addition to the provided supplies, you'll just need a spoon.
Email dorseyvillealliancekids@gmail.com to get the Zoom invite details or coordinate supply pick-up/delivery. Virtual events begin at 6:00 pm and last between 30-45 minutes.
At-Home Kids' Lesson for Sunday, April 18
The armor of God is not physical armor that we must carry around or wear on our bodies but rather a way to explain the protection God gives believers. Things like righteousness, truth, salvation, and God's peace protect us from the ways our enemies attack. God also gives us His Word, which Paul compares to a sword. The Bible is how we fight back against temptation. In addition to the armor, we can always rely on prayer. Prayer is when we talk to God, and when it comes to fighting spiritual enemies, prayer is like radioing the commander-in-chief to get help. God gives us what we need to stand strong against evil. (Ephesians 6:10-19)
The DAKids will be learning this lesson in person tomorrow, but for our online families, you can use this video to guide you through.
Our current memory verse: "If anyone is in Christ, the new creation has come: the old has gone, the new is here." II Corinthians 5:17
* * * * *
* * * * *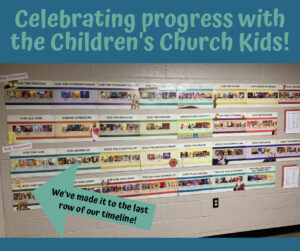 Our Children's Church uses LifeWay's Gospel Project curriculum, a creative, chronological approach showing children that the Bible is more than a collection of stories but rather the BIG STORY of God's plan to bring abundant life to His people through Jesus.
* * * * *
Dorseyville Alliance Church has instituted a Child Protection Policy that complies with the Pennsylvania Child Protective Services Law.