For students in sixth through twelfth grades, Sundays from 6-8 pm are just for you!
New to Focus? Sign-up here to let us know you are coming!
Here at Focus Student Ministry (FSM) our focus is centered on Jesus; He will never steer us wrong. Our goal is to lead our students into a loving relationship with the Lord. We aim to do this by:
1) Teaching our students about God (Father, Son, and Holy Spirit)
2) Leading them into His presence
3)Teaching and equipping them to take ownership of their faith as followers of Jesus
4) Empowering them as members of the Church body
5) and providing them with Up, In, and Out opportunities
Up = Fellowship with God; In = Intentional fellowship with other believers; Out = Intentional investment in the community around us

.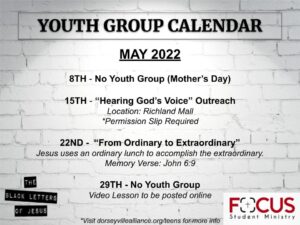 We are currently on Unit 6 of LeaderTreks' youth curriculum The Black Letters of Jesus.
Unit 6 Summary:

Jesus and the Ordinary
Students will explore how a very extraordinary Jesus interacts with the ordinary world around him. They'll look at times when Jesus used ordinary things for extraordinary purposes; the way he transformed and repurposed the broken and "unusable," the things he values and why he values them, and the way he uses ordinary people like us to advance his extraordinary mission.

– LeaderTreks Youth Ministry
CURRENT MEMORY VERSE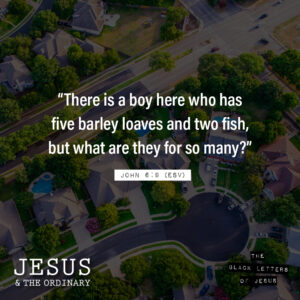 Contact Leah for more information.
* * * * *
Dorseyville Alliance Church has instituted a Child Protection Policy that complies with the Pennsylvania Child Protective Services Law.