Welcome to Dorseyville Alliance Kids, Virtual and Vibrant! Scroll down to see what events are coming up, to find the latest weekly kids' lesson, or to submit a prayer request.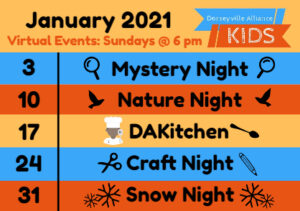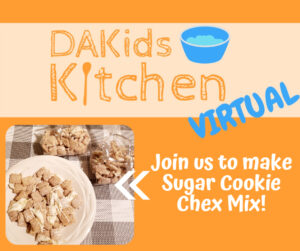 January 17th -> DAKitchen | Ms. Rachel has a delicious Chex mix for us to whip up together, from our own kitchens! Ingredients are available for pick-up or delivery.
January 24th -> Craft Night | Join Ms. Laura in completing a craft that goes right with our lessons on Paul! Supplies are available for pick-up or delivery.
January 31st -> Snow Night | Ms. Marla has a snowy-themed evening for us and is going to tell you why you are like a snowflake!
At-Home Kids' Lesson for Sunday, January 17
Everywhere they traveled, Paul and Silas preached the same message to all people, no matter who they were: "Believe in the Lord Jesus and you will be saved." (Acts 16:11-34).
Our current theme:
How do people hear about Jesus? God uses Christians to tell others about Jes

us so they may repent and be saved.
Our current memory verse:
"You will receive power when the Holy Spirit comes on you; and you will be my witnesses in Jerusalem, and in all Judea and Samaria, and to the ends of the earth."
Acts 1:8
* * * * *
* * * * *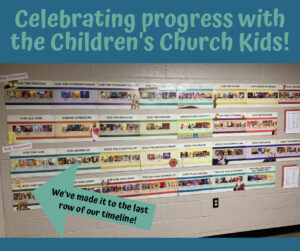 Our Children's Church uses LifeWay's Gospel Project curriculum, a creative, chronological approach showing children that the Bible is more than a collection of stories but rather the BIG STORY of God's plan to bring abundant life to His people through Jesus.
* * * * *
Dorseyville Alliance Church has instituted a Child Protection Policy that complies with the Pennsylvania Child Protective Services Law.