Children's Ministry
Just as Jesus welcomed the children to Himself, we at Dorseyville Alliance want to follow His example and be a welcoming, comfortable, and safe place for children of all ages. In each of our children's ministry areas, you will find kind teachers and helpers who love sharing about Jesus with your children!
BACK TO SCHOOL EVENT
On August 17th, we are going to party like it is the last Saturday before school starts! Come for pizza, ice cream sundaes, an epic water balloon battle, and a time of prayer and blessing for students and families as they prepare for the upcoming school year. This is an event for the whole community, so invite your neighbors and friends!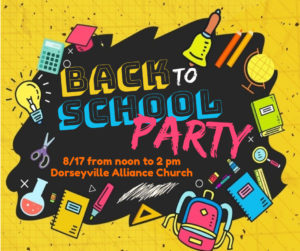 Sunday School
From June 16 – August 18, our children's classes will be working together for a special hands-on Sunday School experience as we turn our classrooms into Science Labs! Each of the ten weeks' lessons are stand-alone, designed for students to participate as much as their summer schedule allows. Join us from 9-10 am downstairs!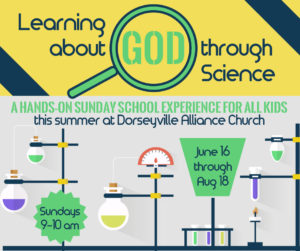 Nursery
Nursery care for ages 0-5 years is available throughout the morning service time. Children can play, craft, and imagine while also hearing and exploring a Bible story.

The nursery also offers a quiet space with rocking chairs and a television showing the service in progress so that parents can calm and feed their little ones in a comfortable environment.
Children's Church
Elementary students are invited to attend children's church; children begin in the main service as we worship in music together and then are dismissed to the children's church classroom (downstairs) for the remainder of the service.

On 4th Sundays of the month, the children's church kids stay in the service with us. Age-appropriate activity packets are provided to help guide the kids through listening to sermons and thinking about Jesus.
*To accommodate multiple children with food allergies, our Children's Church room and snacks are dairy-, nut-, and egg-free.*
Our Children's Church uses LifeWay's Gospel Project curriculum, a creative, chronological approach showing children that the Bible is more than a collection of stories but rather the BIG STORY of God's plan to bring abundant life to His people through Jesus.
Dorseyville Alliance Church has instituted a Child Protection Policy that complies with the Pennsylvania Child Protective Services Law.