Read on to see what the DAKids are up to and what families can expect on a Sunday morning at DAC.
This Month
The DAKids are sponsoring a community kickball tournament on Tuesday, August 9th from 6-8pm at Emmerling Community Park. There will be two fields of kickball going, with games for kids and teens. Register here!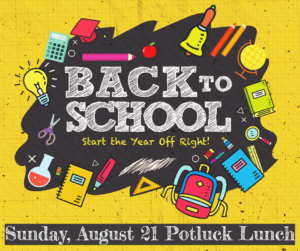 On Sunday, August 21, there will be an all-church potluck lunch as we celebrate and pray for our students and their start to the school year! A sign up sheet is in the foyer to help us plan the food, but whether you have signed up or not, please join us for lunch.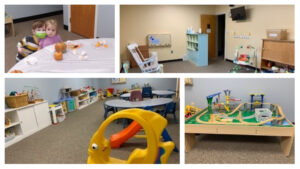 Nursery
Nursery care for ages 0-5 years is available in the larger nursery throughout the Sunday morning service time. Children can play while in the care of gentle, loving volunteers. A Bible Story, art time, and snack are included in the morning.
The smaller infant nursery offers a quiet space with rocking chairs and a monitor to watch the service in progress so that parents can calm and feed their little ones in a comfortable environment.
*To accommodate our children with food allergies, our nursery rooms and snacks are dairy-, nut-, and egg-free.*
Have a question about the nursery? Email our nursery coordinator, Laura.

Children's Church
All elementary children are invited to attend Children's Church. Children begin in the main service as we worship in music together and are then dismissed to the foyer to meet the DAKids teachers. The group heads down to the fellowship hall for a Bible Story, active games, seated activities, and snacks.
Children should be picked up in the fellowship hall by their parents following the morning service.
*To accommodate multiple children with food allergies, our Children's Church room and snacks are dairy-, nut-, and egg-free. We also have gluten-free snacks available.*
Our Children's Church uses LifeWay's Gospel Project curriculum, a creative, chronological approach showing children that the Bible is more than a collection of stories but rather the BIG STORY of God's plan to bring abundant life to His people through Jesus.
We continue to follow CDC guidelines in Children's Church. You will see a few leaders and children with masks, and you will see most without. We support your family and your family's choice regarding masking. As a reminder, if your child is exhibiting any symptoms of COVID-19 (including fever/chills, cough, difficulty breathing, fatigue, muscle/body aches, headache, sore throat, runny nose, nausea, vomiting, congestion, new loss of taste/smell), please keep your child at home.
Have a question about Children's Church? Email our DAKids coordinator, Steph.
Dorseyville Alliance Church has instituted a Child Protection Policy that complies with the Pennsylvania Child Protective Services Law.
Interested in volunteering? Click here for more information.