Welcome to Dorseyville Alliance Kids, Virtual and Vibrant! Scroll down to see what events are coming up, to find the latest weekly kids' lesson, or to submit a prayer request.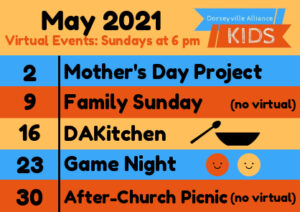 May 2 -> Mother's Day Project | Ms. Diana has a special activity for us to make for our moms.
May 16th -> DAKitchen | Ms. Rachel will have us all making something delicious!
May 23rd -> Game Night | Ms. Steph has another night of games and silliness planned.
Email dorseyvillealliancekids@gmail.com to get the Zoom invite details or coordinate supply pick-up/delivery. Virtual events begin at 6:00 pm and last between 30-45 minutes.
May 9 is Family Sunday, and the service is geared for the full church family. Some of our DAKids will be welcoming everyone to church, some of our youth group will be part of the worship team, and some of the parents will be sharing stories about what God has been doing in their lives. There are going to be some pictures on the screen and stories about the DAKids, too. And of course, we'll be celebrating Mother's Day!
For all in-person families, there will be family worship bins available for pick-up at the beginning of the service; these bins will have a Mother's Day craft and other self-led activities to use during the morning. For our online families: have your kids join you in viewing the Sunday morning service – available on our watch tab beginning at 10:30 am on Sunday.
As we are all together for Family Sunday, there isn't a specific kids' lesson in-person or online. However, you can always view a lesson you might have missed on our YouTube channel: DAKids YouTube.
Our current memory verse: "Now faith is confidence in what we hope for and assurance about what we do not see." Hebrews 11:1
* * * * *
* * * * *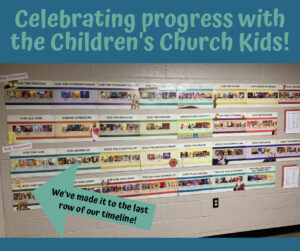 Our Children's Church uses LifeWay's Gospel Project curriculum, a creative, chronological approach showing children that the Bible is more than a collection of stories but rather the BIG STORY of God's plan to bring abundant life to His people through Jesus.
* * * * *
Dorseyville Alliance Church has instituted a Child Protection Policy that complies with the Pennsylvania Child Protective Services Law.