Welcome to Dorseyville Alliance Kids, Virtual and Vibrant! Scroll down to see what events are coming up, to find the latest weekly kids' lesson, or to submit a prayer request.
March 7th -> Craft Night | Ms. Laura has a fun twist on decorating Easter eggs. You will just need water in addition to the provided supplies.
March 14th -> DAKitchen | Ms. Rachel will be leading us in making another delicious snack.
March 21st -> Sharing Easter | Ms. Marla is going to teach us a creative way to share Easter with our friends and family. For this evening's activity, you will need markers or crayons in addition to the provided supplies.
March 28th -> Game Night | Ms. Steph has some energetic virtual games for us to play together.
Email dorseyvillealliancekids@gmail.com to get the Zoom invite details or coordinate supply pick-up/delivery. Virtual events begin at 6:00 pm and last between 30-45 minutes.
At-Home Kids' Lesson for Sunday, February 28
God loves all of us because we are all made in His image. He sent Jesus to die for the sins of every kind of person. Each person is equally important to God.
James wrote a letter to make sure that Christians knew that it would be a problem for the church to treat rich people better than poor people, because that would make it seem as though God might value some people more than other people. God does not look at our outward appearances or the way we behave to determine who deserves His mercy and love – He gives us mercy and love freely! (James 2:1-13)
Our current theme: Why does God want us to obey Him? Obedience is our response to God's love for us.
Our current memory verse:
"I have been crucified with Christ and I no longer live but Christ lives in me. The life I now live in the body, I live by faith in the Son of God, who loved me and gave Himself for me." Galatians 2:20
* * * * *
* * * * *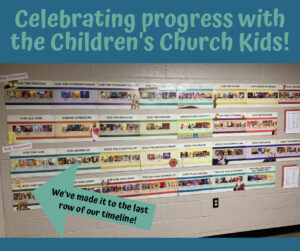 Our Children's Church uses LifeWay's Gospel Project curriculum, a creative, chronological approach showing children that the Bible is more than a collection of stories but rather the BIG STORY of God's plan to bring abundant life to His people through Jesus.
* * * * *
Dorseyville Alliance Church has instituted a Child Protection Policy that complies with the Pennsylvania Child Protective Services Law.