Adult Ministries
ALL ACTIVITIES AT THE CHURCH FACILITY ARE CURRENTLY SUSPENDED.
Click here for more information or read on to see what is happening virtually.

Secret Church 2020
Our church will be participating in the simulcast of Secret Church on Friday, April 24th from 7pm to 1am. This year's theme is God, Government, and the Gospel.
"Secret Church is a unique, one-night event. Encouraged by our persecuted brothers and sisters' example, we meet for over 6 hours for intense study of God's Word and passionate prayer for the persecuted." For more information on Secret Church, click here.
In the past, believers have gathered locally in small groups to participate in Secret Church together. Given the current circumstances and social distancing regulations, it is not a possibility for us to gather together physically but individuals can experience the simulcast in their homes.
In order to maintain the connection between each of Dorseyville Alliance's participating households, we will schedule an optional Zoom meeting for the duration of the event. During Secret Church, everyone will mute their devices being used for Zoom until we reach the breaks and prayer segments. This will enable us to discuss and pray together across households during the event.
If you are interested in participating in Secret Church, please complete the form below by April 15th.
* * * * *
Alliance Men
The Alliance Men's group focuses on fellowship, supporting world missions, and growing in understanding of the Scripture. The Alliance Men meet the second Saturday of every month at 8:00 am at the Kings on Rt. 8, Gibsonia.
* * * * *
DISCIPLESHIP GROUPS
Men and women are invited to this weekly Bible study on the book of Acts. Participants are encouraged (though not required) to come prepared each week using the supplied study handouts and to stay after the study for partner sharing, prayer, accountability, and encouragement. Discipleship Groups are offered twice each week: Tuesday mornings from 10 am – noon and Thursday evenings from 7-9 pm.
For the time being, Discipleship Groups are meeting virtually. To receive information on how to participate, please email Pastor Mark.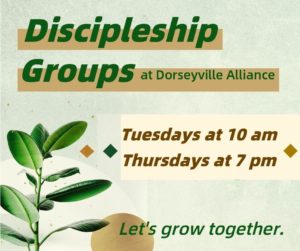 * * * * *
Ladies' Gathering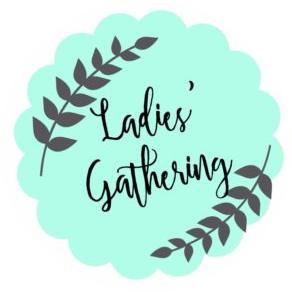 The Ladies' Gathering is a multi-generational group of women on mission to love and follow Jesus, to support each other in life and prayer, and to make a difference in the world to the glory of God. Gatherings include fellowship, Bible study and discussion, a missions spotlight, and time to support one another with encouragement and prayer.
From September – May, the Gathering is offered twice each month to enable the participation of as many women as possible. Held on the second Wednesdays of each month, Morning Gatherings begin at 10:00 am, and Evening Gatherings begin at 7:00 pm, always with the option to come early for additional fellowship.
For April, the Ladies' Gatherings will meet virtually. To receive information on how to participate, please email Steph Conklin.
* * * * *
Sunday School
Two Adult Sunday School classes are offered each Sunday morning from 9-10 am.
* * * * *
Young at Heart
Young at Heart is a ministry designed to bring senior members of the community together for fellowship. Held at 11:30 am typically on the third Wednesday of each month, each get-together includes a covered-dish lunch and entertainment.
Young at Heart is off for the winter and will resume on Wednesday, May 20th, 2020.
For more information or to RSVP for the next Young at Heart, contact the church office at 412-767-4600.