Welcome to Dorseyville Alliance Church! No matter where you have been or how hard your week has been, we want you to feel welcomed here. We are here, with you, as people who want to encounter Jesus as the One who wants to walk us through ALL the circumstances of life.
For visitors, we would love to have you let us know you are here and if there is any way we can serve you or pray for you. Click here to get connected.
It is a joy and privilege of those who regularly attend DAC and call this their church home to participate in the offering. For those attending online, you can give here.
* * *
Oct. 1: Communion will be served
Oct. 2: Board of Ministries 7pm
Oct. 3-5: W. PA. Christian & Missionary Alliance District Conference
Oct. 4: No Night of Worship and Prayer
Oct. 7: Fall Family Fun Day 12-3pm
Oct. 8: Nominations deadline from the congregation for elected positions must be submitted in writing to
Oct. 8: Prayer Gathering at the Arabic Christian Church of Pittsburgh beginning at 3pm
Oct. 11-25: Join in a two week fast to seek and draw near to the Lord.
Oct. 14: Alliance Men will meet at Eat N Park – Pittsburgh Mills 8am
Oct. 15: An eight week Sunday School Class on Ecclesiastes. Led by Jake Potter and Dan Allshouse

Audio/Visual volunteers for Sunday mornings are needed. Contact Leah Potter.
* * * * *
Weekly Schedule: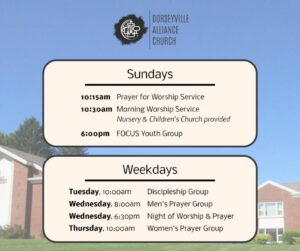 Tuesdays: 10am Discipleship Group
Wednesdays: 8am Men's Prayer Meeting at HighPointe at Rebecca Residence
Wednesdays: 6:30pm Night of Worship and Prayer
Thursdays: 10am Ladies' Prayer Meeting
2nd Saturdays: 8am Alliance Men's Breakfast at Eat'N Park, Pittsburgh Mills
* * * * *
Soup's On: Not feeling well or have a friend or neighbor who is not feeling well? Our freezer in the Cafe refrigerator has varying sizes of frozen soup ready for you to use or to take as a blessing to those needing care and encouragement. Many thanks to the volunteers who provide the soup.
Volunteers are welcomed for the Sunday Cafe pick up, set-up and clean-up. For more information, email us here.
CD Requests: To request a CD of a recent service, email us here.
To share urgent prayer requests for the church prayer warriors to lift up, please email Michelle here.