Saturday, April 11 | Easter Egg Hunt
When you can't have your annual Egg Hunt, you look for the next-best thing: Egg Hunt To-Go Kits! We have kits for 100 families. Each kit includes eight eggs containing specific items to help your family talk about the story of Jesus, plus a coloring packet to guide the discussion. We also have candy-filled eggs for each child as well, ready for you to hide at home. Please sign-up on the form below and indicate if you will need (local) delivery or if you will be picking up.
Pick-up will be available April 11th from 9-11 am.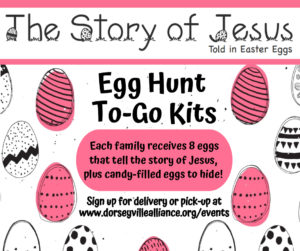 (Parents: the Allegheny County Health Department has approved our packing and distribution plans. The eggs are being stuffed by symptom-free volunteers wearing gloves. Additionally, the eggs are being stuffed at least 3 days in advance, since research shows coronavirus does not remain on plastic past 3 days. If you select pick-up, you will receive an email on how to get your Egg Hunt To-Go Kit in a manner that maintains social distancing and safety.)