2019 Missions Conference
Friday-Sunday, November 8-10, 2019
Dorseyville Alliance Church is excited to host Eric and Vicki, international workers in West Africa. We have a great weekend planned with them, designed to help us get to know each other, to celebrate what God is doing in West Africa, to support Eric and Vicki in their work, and to align our hearts even more with God's heart for the world!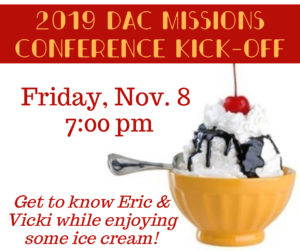 7 pm | Ice Cream with Eric & Vicki
All are welcome to this laid-back evening as we enjoy dessert and get to know Eric and Vicki.
8 am | Men's Breakfast with Eric
Eric will meet with the Alliance Men at King's on Rt. 8 Gibsonia.
5 pm | Dinner with Eric & Vicki
Come for a dinner of familiar foods and also for the opportunity to try a West African dish! There will be a special time geared for the children at this event. Register below.
Eric and Vicki will share during the adult Sunday School hour. (The older kids' class members are invited to attend as well.)
10:30 am | Morning Service
Eric will preach during the morning service.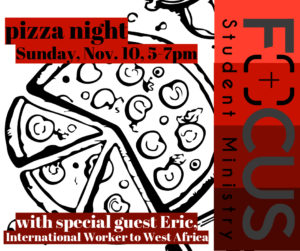 5:00 pm | Eric at FOCUS Student Ministry
Over a pizza dinner, Eric will share some of his testimony and also help students see the mission field they are already in. This special youth group time will be from 5-7 pm and remains open to all in grades 6-12.