For students in sixth through twelfth grades, Sundays at 6 pm are just for you!
From August 25 – October 13, the youth group will be using the movie Run the Race as a jumping off point for topical, Biblical discussions about forgiveness, God's plans vs. our plans, life on mission, and more.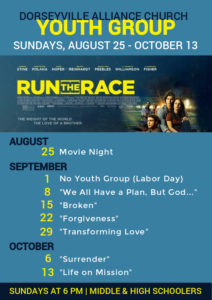 Due to the youth room renovation, youth group is currently held downstairs in the fellowship hall. Need more information? Call the office at 412.767.4600.