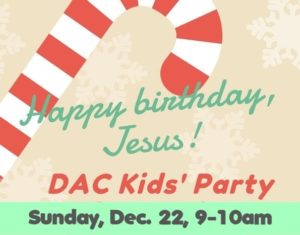 Our 2nd Annual DAC Kids' Party for Jesus's Birthday will be during the Sunday School hour on Sunday, December 22. We'll have a special birthday treat, play Christmas games, and use the symbols of Christmas to remember the Reason for the Season.
[Both kids' Sunday School classes will combine for this party; kids who don't regularly attend Sunday School are invited to join us as well.]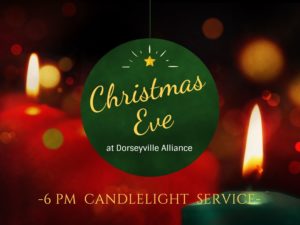 All are welcome to attend our Christmas Eve Candlelight Service, a time to sing, reflect, and rejoice in the coming of Christ.
To enable our entire church family to attend the Christmas Eve Service, there will not be childcare during the service. However, we welcome the sounds of children, as they are signs of vibrant life within our walls.